Nuthatch's Aqua Splash – "Splash"
Splash was born Nov 14th, 2012.  She's from our A litter and the only girl born to
Ripple    X    GCH CH Bella Wood's Born on the Bayou (Cajun).
AKC: WS42411705
Health
LPN 1: Clear!  N/N  (expected since both parents are clear). Test date: April 2013
LPN 2: Clear! This is the 2nd LPN test, released in 2014, and Splash shows negative on this test too.
Hips: Excellent (the best rating!) – Dec 2014
Thyroid: Normal – Dec 2014
Elbows: Norma – Dec 2014
Eyes (TBD – will be doing this later in the year.  This is only a 1-year cert so I will be doing that a few times)
Heart – not Cert'd yet but her darn heart has been checked and checked after the Dec 2014 "incident" and sounds strong and regular
Accomplishments/Titles
"Best Puppy in Show"  -AKC show, April 4th, 2013, Vancouver, WA
"Best Puppy in Show" – LCA Traditional show, April 5th, 2013, Vancouver, WA
Reserve Winner, Flatirons AKC show, June 1, 2013, Longmont, CO
Reserve Winner, Flatirons AKC show, June 2, 2013, Longmont, CO
Winner's Bitch  – Arapahoe Kennel Club 1-point
Winner's Bitch  – Rocky Mtn Cluster, Feb 2014 1-point
(and darn, missed a couple of shows, but as of Summer 2014, Splash has 4 points.  This is likely all she will get, as we don't have enough dogs in the Denver area to build majors, and we're not into traveling the circuit.  So we'll just be happy with what we've gotten so far).
Yah, it's 2015 and we haven't done any more conformation but she has gotten 2 legs in Beginner Novice obedience… and!… ta-da:
Water Dog ("Junior" level) – Sept 2014.  This is a big deal!  It's her first summer of water work training and we weren't able to participate in the July test so Sept was Splash's debut on the waterwork scene.  I have no doubt she'll rock the Senior level test whenever we get a chance to do it.(likely 2016).
ORT certification in Birch (nosework).  Feb 2015
Notes:
As Splash grows I'll keep this page updated with her health stats and accomplishments.  This is the most active Leonberger I've ever had and needs the most attention and training.  She's a wonderful girl but has an "edge" to her – quite possessive and protective of her moms.  That's not the best thing in the world but not the worst either – we simply have to realize it and make sure she always feels that we are safe.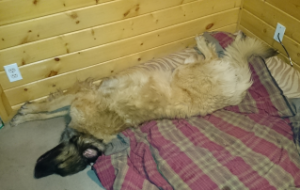 Told'ya… Splash, hyper… all day all the time…
Splash making her debut in 2012:
Accomplishments and Activities:
Eating
Growing
Chewing
Sledding (yes, sledding!  She loves to sit in the sled and fly downhill!)